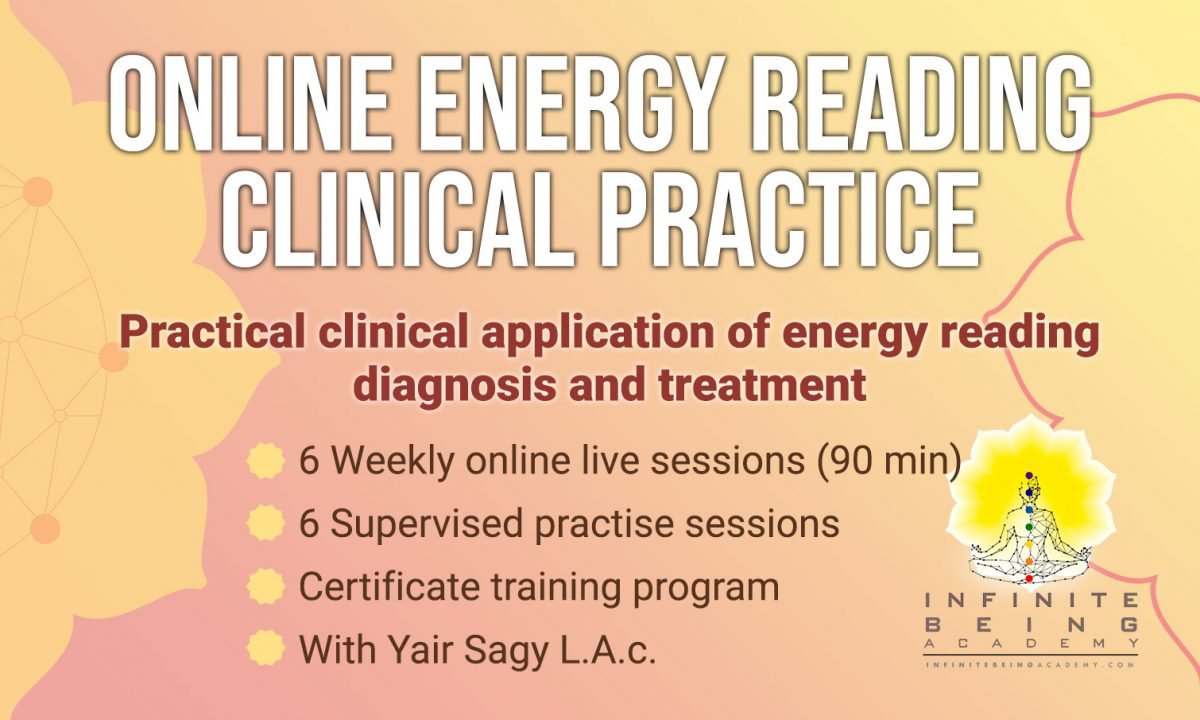 Clinical Practice Energy Coaching Course
18 November 2022 to 3 February 2022: Fridays from 11:00 to 12:30 (CET)
'As a therapist you are going to see that what we call separate, is actually one. –Yair Sagy
Clinical Practice Energy Reading | About the Course
This Clinical Practice energy reading course is open to Infinite Being Academy students who have already completed both Foundation and Advanced level energy reading courses.
The course is suitable for anyone wishing to take energy reading into their professional clinical practice, either now or in the future.
The teachings of this course will enrich both traditional western medical practices and alternative or esoteric therapeutic practices.
This is because, energy reading works symbiotically with all there is.
Our overarching aim is to ensure energy reading students can fully demonstrate that they are meeting the clinical practice accreditation criteria.
Clinical Practice energy reading course builds on the teachings from our Foundation and Advanced level courses. Therefore, this is the opportunity for advanced level students to focus exclusively on client clinical practice. In other words, the time for theory is past. Now is the time for practice!
Weekly practise is a combination of supervised and unsupervised practise sessions. Firstly, classmates will pair up to work together in the role of therapist and client. Then, you will swap and change. Finally, you will be working on your own clients or friends to practice under supervision from your course trainer, Yair Sagy.
Join our ground breaking energy reading programme, honed by Yair Sagy, over forty years of dedicated study and practice.
Clinical exercises will be augmented by full written client case studies. Once complete, your case studies will be submitted to your course trainer for written assessment. After that, feedback from your trainer will provide the opportunity for further, in-depth learning.
Infinite Being Academy community and Yair Sagy will continue to provide substantial guidance and support all the way along your journey.
Transform yourself | Step into your personal power
If you are already a therapist or clinical practitioner, in whatever discipline, learn how to further support your clients in recognising energy imbalance. Learn how to offer them the precious tool of self-healing.
Increase your confidence in your energy reading powers. You aren't making it up. This is really happening!
Infinite Being Academy is fully accredited by IPHM International Practitioners of Holistic Medicine.
Further your professional development. Get certified from home.
Deepen your learning. Re-visit your classes any time you want with the class recordings
At the end of the course you will be able to
• Fully meet the Infinite Being Academy energy reading in clinical practice accreditation criteria
• Easily connect with your own unique and intuitive ways of working with energy – for yourself and your clients
• Confidently take energy reading into your clinical practice – either as an exclusive practice or in support of other existing therapeutic practices
• Practice your own energetic diagnoses on your clients
• Develop your own energetic treatment techniques on your clients
• Use energy reading to support your clients and your life in ways you never imagined
'When I first started to learn with Yair I was skeptical about my ability to see aura and to read energy. But after a short time it became very easy and effortless. Now I use this ability with almost everything that I do, especially in my work as a therapist, and acupuncture healing.'
Omri Lutsky, Israel
'I didn't expect to learn so much. To meet Yair and all the lovely people on this platform without having to travel was great for me. I feel that I have learned sooo much. I can also look back at the recordings, which is very helpful for my development. You opened many doors, Yair. I like to dive in and do a lot with everything you've offered us. And with everything on your site and in your videos. I am very happy and grateful for that.'
Anya, The Netherlands
'Yair's courses have really taught me to believe in myself. To believe in everything I already instinctively perceived but struggled to make sense of. This is an enormous and profound gift. I feel like doing the courses over and over again. They are so rich in material and insight. There is so much to learn and gain. And I'm so happy for the added bonus of having made new friends on this path as well. All over the world!'
Beverley, United Kingdom
'Thank you very much Yair. I love your energy and enthusiasm to bring us all forward to a brighter future with love and inner connection. Big hug.'
Oliver, Spain
For anyone wishing to use energy reading to upgrade their existing therapeutic or clinical practices:
Energy reading is a revolutionary way of connecting, diagnosing and treating imbalance. It allows the practitioner to be in direct and live contact with their client.
Any change in the client – emotional, mental or physical – is always and immediately registered in their energy field. Being able to observe these changes facilitates a deeper and more dynamic connection with the client.
Energy reading empowers the client to take self-responsibility. We focus on treatment and education at the same time. We are facilitating the client to support their own healing and growth within the treatment context.
'Whatever you are doing you can apply energy reading to it to gain deeper understanding and better results. As a therapist or clinician. As a parent – of course. As a teacher. With animals. In business. Literally anything.'
Since the Mind Body is one system, it is not enough to focus on the body. Even with accurate diagnosis and treatment, the client remains passive and is not taking responsibility for their own healing. Energy reading addresses the entire energetic system allowing the client to support themselves.
Energy reading works closely with the client to uncover their emotional and psychological patterning – patterning which contributes significantly to their state of dis-ease.
For example, a client dealing with psychological tendencies of self-rejection will likely experience blockages in the solar plexus area. This may lead to digestive symptoms. Once this connection is recognized a shift occurs, both in their relationship with themselves and in their life experiences on a physical and emotional level. Frozen shoulder is another example. When observing the client's energy, you will see blockage in the heart centre, and a restriction in the ability to freely give and receive love. The ideal treatment plan would therefore combine opening the blocked meridians and supporting the client to open their heart.
Crucially, in order to recognise what is happening within your client's energy system, you will first need to recognize what is happening within your own energy system. The second step is the Advanced level energy reading course.
Energy Reading: The way for inner growth of client and practitioner.